An introduction to the methods and tools of the Heritage Knight.
On January 8th we gathered in St. Edmund's Church, Church Lane, Stoulton, just off the B2484 Worcester to Pershore Road for a first taste of the methodology used in all Stories from the Stones projects, including the Pershore Big Heritage Quest. We took the opportunity to take a look at this old building which dates from the 12th century.
The stones of an old church will often start to tell the story of a community. Have a look at the photos.
The stones come from St. Edmund's Church, Stoulton.
What do you make of them?
What are they saying to you?
These walls are telling me they are old, very old.

Why?  
Because of the shape of the arches, they are Romanesque and were built in Norman times.  In fact the whole building screams out to me that it is Norman.  Checking the guide books, and those who know more than me this church is one of the oldest in Worcestershire and was built around 1120.
It also raises a question or two
Where have I seen blind arches like these?
Why is this such a big church building? 
There are things to be discovered.
Heritage Knights make good use of all that can be seen in and around church buildings. They offer 'Detectives Fun Days' for school and other groups to help detectives practise the tools of the heritage detective and develop valuable new skills along the way.
A WALK UP THE VILLAGE STREET
It was a damp and murky afternoon so the next activity was not prolonged but everyone was asked to 'wonder' about the historic story of Stoulton as they wandered up the lane to the Village Hall. They were asked to use the houses, house and street names as clues.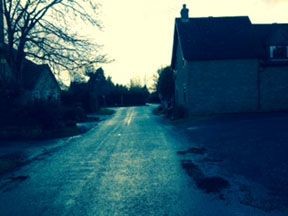 There is nothing like a damp, murky afternoon to get the imagination juices flowing!  This modern picture conveys something of what it might have been like in the past!
Below are some images of Stoulton taken in the half light of a January afternoon, what do they say to you?
Everyone was given an old photo and asked to locate it today.
The next task was to compare and contrast the old and the new.  
What is different?
What is the same?  
What has happeneed here?
Then                               and                     Now
Heritage Knights use old photos in this way to help young detectives learn to look and find similarities and differences, in this way they put over the message that things are constantly changing - the same, but different! Click to find out more about children's View Finder cards.  All detectives tools can be downloaded from this site.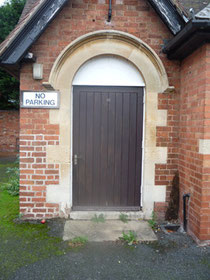 Back in the warm of Stoulton Village Hall, until the 1930s the Village School, we discussed the use of old photographs as ways in to the history side of the quest.  Over a cup of tea we considered how and why we ask children to make wonder cards of things that interest them while out on a quest trail.  We imagined that we had made wonder cards out of photos we could have taken during our walk from the church and we put them on the Knights timeline and constructed an outline of the Stoulton story. Of course it raised many questions.
STOULTON
Village church      Timber framed       New      Village New     Manor
Built                        houses                 fronts    School      houses  Farm
&                                                              Village School               redeveloped
maintained                                         Opens   Closes                           
Farming community---------------------------------------------- 
Fields surround the settlement-
-----------------------------------------------------------------------------------------                           
__________________________________________________________
1120            1590 - 16501700s          1800              1900 1960 1980 2000
 Of course not to scale!
The land is still farmed but very few people work on the land!
The activity outlined above gives an example of the kind of detective work the school children are contributing to the Pershore Big Heritage Quest.  They will be identifying the things that interest them and working out what, if anything our time traveller, Sir Arthur, might recognise. 
In our story Arthur visited Worcester and Pershore in 1204 and is now returning to solve The mystery of the two abbots who shared Pershore Market.  They are providing the visual information and asking questions.
It is up to the adults to supply answers to their questions plus the framework of local history which will provide a backcloth/context for their discoveries.  
Thats what these workshops are all about - but we recognise that you will have your own special interest to explore as well and thats fine.  As we work along together I hope that you will be able to apply some of the ideas and activities to your own special quest. 
We are working toward a very special output, a new tourist attraction for visitors to Pershore and the Pershore area. It will take the form of an online Time Travellers Guide for Arthur and other interested visitors.  This will also link to a new game for families available on smart phones and will be based on the Mystery of the Two Abbots who shared Pershore Market.  A team led by Olly a Year 13 student at Pershore High School. Olly and his team will be working on this game from June onwards.  We hope to launch it all during the Heritage Open day activities on September 13th. 
I hope that this sets the scene for you, don't forget to explore the web site using the links to take you straight to the appropriate material
So lets make a start with Pershore
Over the next few months it will be our task to gather and organise the information that will provide the context for the Pershore Big Heritage Quest. Hopefully we will be populating village timelines - but more of that next time.
Many people enjoy local history and there are some wonderful publications out there full of the sort of information we need so there is no need to reinvent the wheel.  Of course we may come up with new information or we might make new connections that might make us look at things differently and that is when we call in the experts but for now lets just start to get a better understanding of the local historic landscape and look at Pershore.
Much of what follows will be expanded in more detail next month when some new visual aids will be ready to share.  Briefly though Pershore has a long history and we will be looking at the Pershore Hundred.  For about a thousand years the Hundreds (until 1887) were important administrative areas within the county rather like Wychavon is today. I hope next time to be able to show you the places included in the Pershore Hundred on a map, you may be surprised!  The map will also illustrate what happened to those places when King Edward the Confessor endowed the Benedictine Abbey of St Peter, Westminster with two thirds of the land once attributed to the Benedictine Abbey of St Mary, Pershore.
Coming next time........  Discover the connections between Broughton, Walcot, Drakes Broughton, Lord Coventry, Croome Court, Ralph Sadleir, Hilary Mantel, Allesborough Hill, the Abbot of Pershore, Pershore Abbey. Make the links, create a timeline and deepen your sense of place.